Technology Enabled Occupational Health
Carelever is our cloud-based platform that enables you to make referrals to us for pre-employment, health monitoring and injury management.


Log-In to Carelever
If you are an existing user of Carelever you can log-in to the system here.


New to Carelever
If you are a new user and need to access Carelever for the first time, we can help you get started.


Request a Service
If you want to request a service from KINNECT or want to talk to us about your needs, you can do so via this form. 


Request a Quote
Need a quote for some services? Just input your details via this online form and one of our Account Managers will get back to you right away. 

Create an Account
If you would like to setup a Credit Account with KINNECT, you can do so by simply submitting an application via this online form.
Key Contacts
You can find the contacts to all our key departments below. Don't forget our friendly customer service team are always on hand to help and you can reach out now via our live chat option.
Bookings Team
Get in touch with our Bookings team to discuss bookings and appointments.
Results Team
Get in touch with our Results team to discuss any queries relating to candidate/worker results.
Health Surveillance
Contact our Health Surveillance team to discuss any health monitoring enquiries.
Projects Team
Get in touch with our Projects Team to discuss projects or onsite services.
Finance Team
Get in touch with our Finance team to discuss any invoicing queries.
Sales Team
Contact our Sales team to discuss a quote or any other Sales enquiry.
Account Manager
Get in touch with your Account Manager to discuss what we can do for you.
Customer Success
Get in touch with our Customer Success team to discuss any other queries.
Careers Team
Contact our Careers team to discuss job vacancies or career opportunities at KINNECT.
Customer Support
Customer service is not a department, it's our attitude.
Our dedicated Customer Success team is here to ensure your experience with KINNECT is a positive one.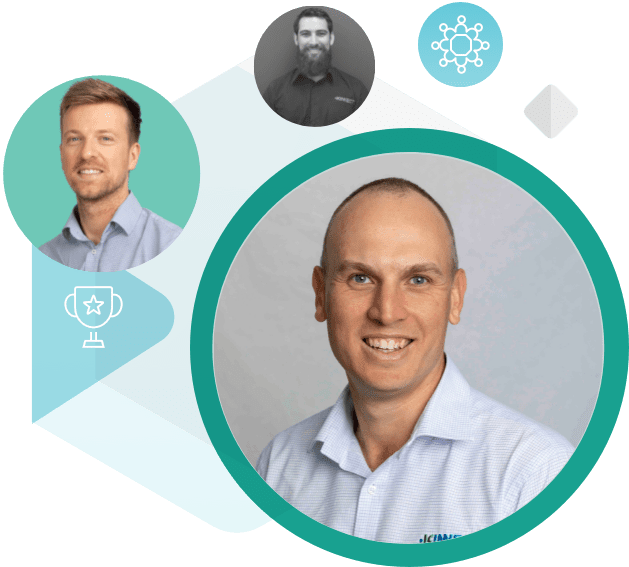 YOUR PARTNER IN HEALTH CERTAINTY
Our account management team are here to make your experience with KINNECT exceptional.
All our account managers have an Allied Health background ensuring we can help your business to navigate any occupational health challenges you're facing.
NEW: Our Health Surveillance Guide
Getting a health monitoring program started has never been easier.
Learn more about Health Surveillance, search our Hazardous Exposure Directory and let KINNECT help you get on top.
We're

good

different. But don't just take our word for it.
Hear what our clients, insurers, workers and employers think about us.
KINNECT's service is professional, prompt, and offers us a range of input and expertise.  Importantly, our employees report feeling cared for and supported due to the personal service provided to them by KINNECT during their rehabilitation and return to work.
Josh Bryant – General Manager – People & Risk – Mitchell Services.
"I was absolutely impressed with KINNECT in every way. Thanks to everyone involved, from the start to finish, I couldn't recommend the team highly enough."
Jerry – Workplace Rehabilitation Client
"I attended the South Melbourne office for a job pre check. The experience was difficult for me and the care, compassion, patience and genuine concern for my wellbeing was most appreciated. Your staff are a credit to their profession. Thank you."
Christopher – Pre-Employment Client
"10/10 for sure. The content was relevnt and perfectly pitched to the audience. I will definitely be coming back to KINNECT in the future"
Heritage Bank – Injury Prevention Client
"Thanks to everyone involved in my case. i found the whole system with KINNECT and the project to be one of the most thorough and professional I've encountered in 35 years of construction."
Workplace Rehabilitation Client
"We appreciate the efficiency of your organisation in conducting these medicals – much better than we have experienced in the past with our previous provider."
NSW Rescue Helicopter Service – Pre-Employment Client
"I've been to so many medicals over the last 22 years and can only say, well done guys. I've never felt this relaxed and looked after in a medical centre like you've looked after me today. Thank you."
Robi – Pre-Employment Client
"Many thanks for the Handsafe training. Since then we have continued to have lots of positive feedback; participants enjoyed the workshops and found the content informative."
Spotless – Injury Prevention Client
"I am beyond happy with the service and you guys are my go-to for QLD referrals right now."
Westfarmers Self Insurance
Ready to partner with KINNECT?