Pre-Employment Medicals Made Effortless
Designed by KINNECT, Carelever Screen enhances the ease and efficiency of the medical component in your recruitment strategy, serving as a comprehensive one-stop solution.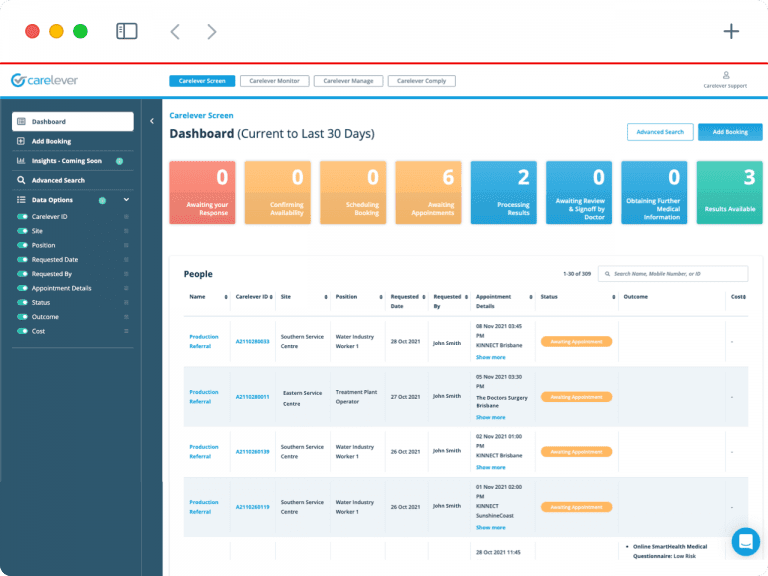 Allow Carelever Screen to automate and simplify your pre-employment medical processes while maintaining full transparency throughout.
How can Carelever Screen help your business?
Ensure that medical evaluations are not a bottleneck in your recruitment strategy. Expedite the onboarding process for new hires seamlessly with Carelever Screen's pre-employment assessment tracking.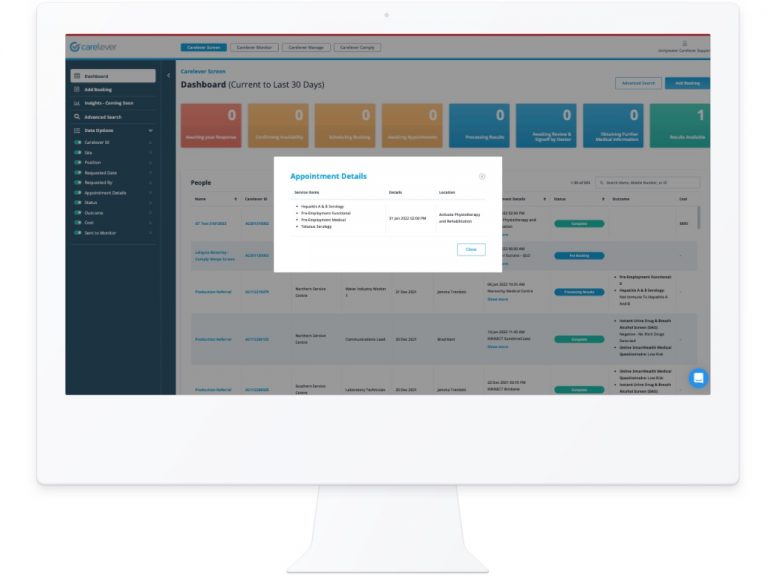 Work smarter & faster
Schedule medical appointments for candidates at KINNECT clinics instantly and online in real-time.
Check the status of employees at the click of a button
Streamlines intricate workflows, resulting in time and administration cost savings
Tailored to your specific needs, including job roles, sites, and medical requirements
Never miss a beat
Mobilise employees quickly and efficiently
Updated to ensure employees meet vaccination and certification requirements
Keeps your business health data safe and secure
Integration and insights
Easily move employees from pre-employment to our health monitoring module
Scales for companies of any size
Real-Time Submission, Bookings and Tracking
Carelever Screen not only allows you to submit referrals and track them in real-time with 100% transparency but also offers the convenience of booking appointments in KINNECT clinics live and online. This means less time spent on the phone waiting for updates and more time dedicated to other aspects of your recruitment strategy. Simply log in to Carelever Screen to efficiently manage referrals and schedule clinic appointments.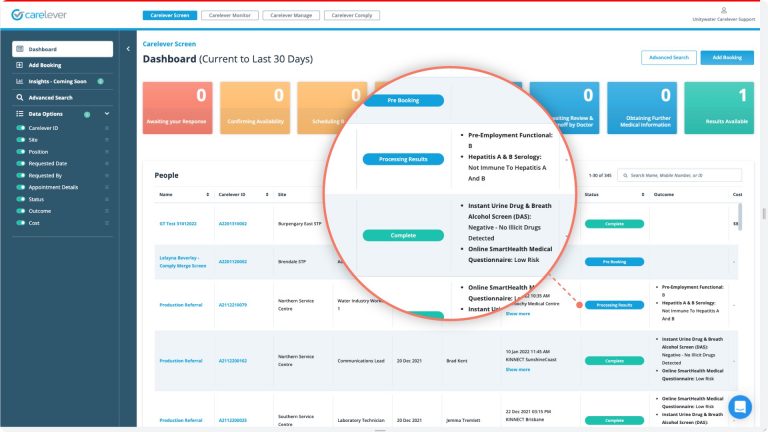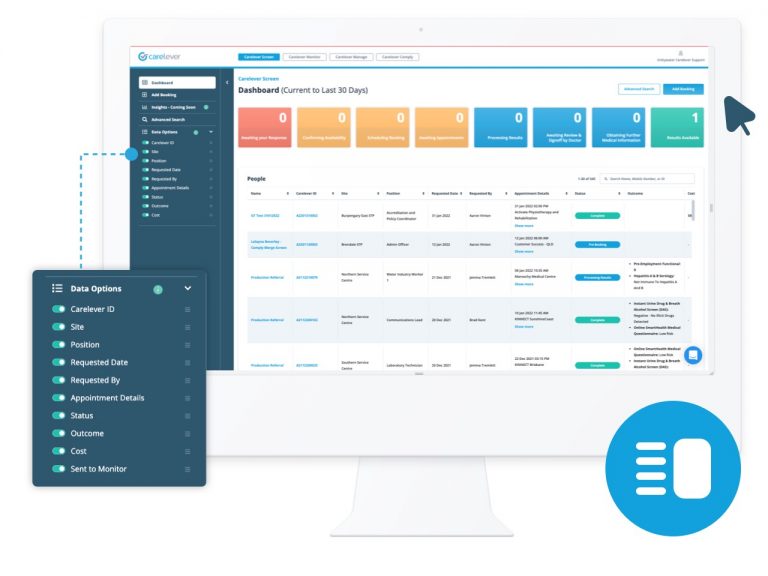 Personalised Dashboard
Our dashboard is intentionally designed to offer maximum simplicity and user-friendliness. Once you log into Carelever Screen, you'll immediately access your company dashboard. This dashboard offers a convenient snapshot of all active referrals, ensuring you're well-informed. You can also personalise your dashboard to display the information and layout that best suits your preferences.
Key Performance Indicators
We recognise that turnaround times are among the most crucial factors in delivering Pre-Employment Assessments. Our commitment to transparency is evident in our precise tracking, where every minute, from referral creation to completion, is meticulously monitored and displayed. This tracking empowers you to gauge our turnaround times and ensures that we not only meet but exceed your expectations. Furthermore, in the event of a delay, you'll have full visibility into the cause and the latest actions taken by KINNECT to rectify the situation.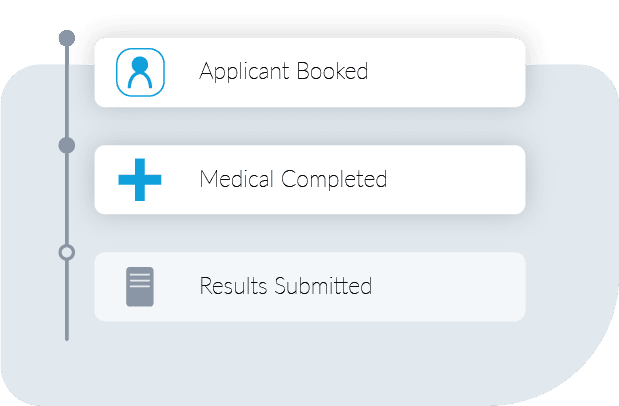 Company Defaults
A notable feature of Carelever Screen is its capability to establish precise default criteria for communication, paperwork, billing, and medical requirements. Moreover, these defaults can be seamlessly integrated with logic corresponding to distinct needs associated with various sites or positions within your organisation.

Communication
With a simple click, you can choose the recipients of results, communication updates, and invoices. You have the flexibility to edit these contacts at any point, guaranteeing that you consistently receive the correct communication.

Paperwork
Carelever Screen automatically presets specific paperwork based on your company and site criteria. Worries about applicants completing the wrong paperwork due to human error are now a thing of the past.

Billing
Allocate different cost centres and/or purchase orders for different sites or business divisions. This information is again defaulted so that your invoices always have the right information to assist your accounts department.

Medical Requirements
Carelever Screen offers the capability to automate medical prerequisites tailored to specific sites, roles, and business divisions. When a referral is submitted for your company, Carelever Screen will automatically recognise the relevant medical requirements and paperwork, simplifying the process. This reduces the time spent on figuring out what's needed and ensures a quicker turnaround for delivering results to you.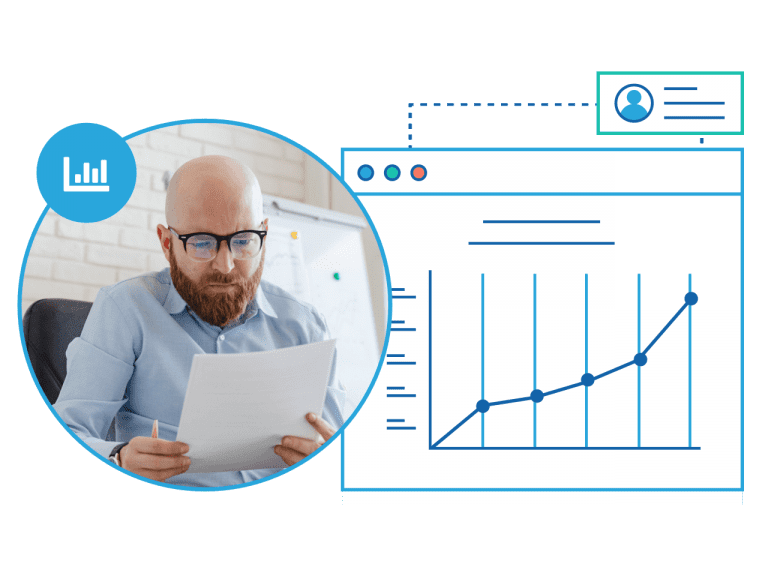 Insight
Carelever Screen offers valuable insights into your company's recruitment trends, enabling you to assess the cost-efficiency and effectiveness of your current strategy in delivering a return on investment.
*Feature coming in 2024
Automate your Pre-Employment Medicals
Get in touch with our team today and learn how Carelever can help your business.
Ready to partner with KINNECT?