A partnership for prosperity
Our full suite of occupational health services gives us the ability to help your business like no other can.
We can help keep your biggest asset, your people, safe throughout the whole employment life cycle, with everything you need to create health certainty at work. Offering a complete service from hire to retire, our focus is on keeping your people healthy, safe and productive and ultimately help your bottom line.
No Cookie Cutter Solutions
Your business is as unique as you are. That's why our solutions are too. We will work with you to create a perfectly tailored solution to your specific business and your specific industry.
Five Star Service
From our Account Management team to customer success, you get 5 star treatment all the way from a team who actually take the time to get to know you and make sure you're happy with our service.
A Comprehensive Network
Access to our KINNECT locations, and our 350+ KINNECT Affiliate clinics (for Occupational Health Services) giving you outstanding coverage across Australian metro, regional and remote locations.
Fierce Independence
We are here to help Australian businesses and workers, not shareholders and while we've grown fast, we are are fiercely proud of our status as Australia's largest privately-owned provider.
Real Time Insights
We combine our experience and our technology to provide real time insights and make better decisions for your business.
Transparency & Technology
Our Carelever technology lets you see everything at the touch of a button, 24/7, which keeps us accountable to you at all times.
KINNECT helps businesses to look after their greatest asset. Their people.
We know that healthy and happy employees are vital to the success of any business. We help businesses to ensure their employees are healthy, safe and productive at work with services covering the full employment lifecycle.
Workers helped since 1996
Pre-Employment Assessments last year
Injured workers supported last year
Employee's Health Monitored last year
Return to Work achieved in the last 12 months
Customers served across Australia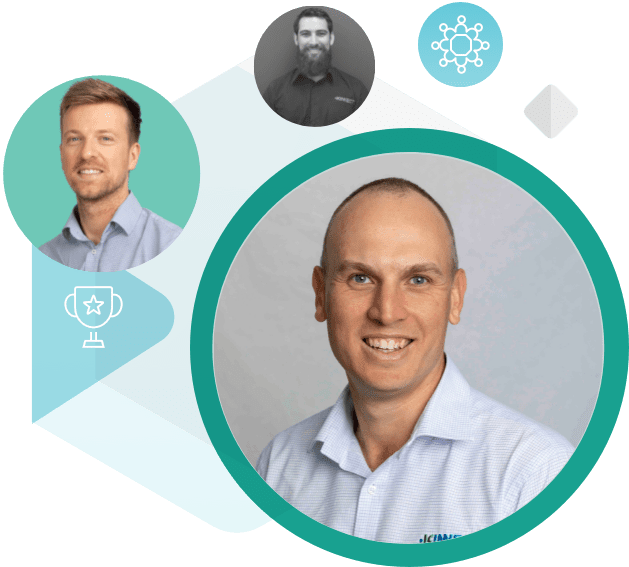 OUR CLIENT TEAM
Here to create your exceptional experience with KINNECT
Meet the team of professionals who match your needs with the services to make your business thrive.
Success Stories
Managing non-critical injuries in regional and remote areas can be difficult with non-urgent health care not always available after hours.
Find out how KINNECT helps Mitchell Services to look after employees who become injured in regional and remote operational sites.
Case Studies
Want to know more about how we can help your business? Check out our case studies to discover how we've helped some of our clients.
We're

good

different. But don't just take our word for it.
Hear what our clients, insurers, workers and employers think about us.
KINNECT's service is professional, prompt, and offers us a range of input and expertise.  Importantly, our employees report feeling cared for and supported due to the personal service provided to them by KINNECT during their rehabilitation and return to work.
Josh Bryant – General Manager – People & Risk – Mitchell Services.
"I was absolutely impressed with KINNECT in every way. Thanks to everyone involved, from the start to finish, I couldn't recommend the team highly enough."
Jerry – Workplace Rehabilitation Client
"I attended the South Melbourne office for a job pre check. The experience was difficult for me and the care, compassion, patience and genuine concern for my wellbeing was most appreciated. Your staff are a credit to their profession. Thank you."
Christopher – Pre-Employment Client
"10/10 for sure. The content was relevant and perfectly pitched to the audience. I will definitely be coming back to KINNECT in the future"
Heritage Bank – Injury Prevention Client
"Thanks to everyone involved in my case. I found the whole system with KINNECT and the project to be one of the most thorough and professional I've encountered in 35 years of construction."
Workplace Rehabilitation Client
"We appreciate the efficiency of your organisation in conducting these medicals – much better than we have experienced in the past with our previous provider."
NSW Rescue Helicopter Service – Pre-Employment Client
"I've been to so many medicals over the last 22 years and can only say, well done guys. I've never felt this relaxed and looked after in a medical centre like you've looked after me today. Thank you."
Robi – Pre-Employment Client
"Many thanks for the Handsafe training. Since then we have continued to have lots of positive feedback; participants enjoyed the workshops and found the content informative."
Spotless – Injury Prevention Client
"I am beyond happy with the service and you guys are my go-to for QLD referrals right now."
Westfarmers Self Insurance