KINNECT can support your Hospital's Respiratory Protection Program.
Ensure your employees are adequately protected from airborne pathogens with a Respirator Face Fit Testing Service.
The purpose of a respirator mask in healthcare is to protect an individual from inhaling hazardous pathogens or particles at work. However, the degree of protection can vary depending on the fit of a particular make and model of respirator mask used. In health care, filtering half facepiece respirators and N95 or P2 masks are globally the most frequently used respirators. Crucially, such masks may only provide satisfactory airborne protection if they properly fit the individual's face to provide a tight facial seal. 
It is essential that Respirator Fit Tests are conducted ensuring optimal fit on the face of an employee to ensure maximum protection. 
KINNECT offers a convenient Respirator Fit Testing service that will support your Hospital Respiratory Protection Program and can be conducted onsite at your workplace, or in a KINNECT office. Testing is conducted in accordance to Australian Standards AS/NZ 1715:2009 Selection Use and Maintenance of Respiratory Protective Equipment (half face, full face and disposable masks) and is suitable for all respirator brands including AMD, BSN ProShield, Halyard, BYD, Detmold, Trident, 3M and Honeywell. 
Respirator Fit Testing & COVID-19
KINNECT has responded to the evolving COVID-19 pandemic 

by

protecting Australia's front-line workers. 

During the COVID-19 pandemic, KINNECT has provided more than 50,000 fit tests

nationwide 

to keep

healthcare

 workers 

healthy, 

safe

 and productive at work.
Quantitative Fit Testing
KINNECT uses only quantitative fit testing to ensure maximum protection for healthcare workers.  Quantitative fit testing in healthcare involves using an instrument called a Portacount, measuring the leakage around the face seal of the respirator mask and providing a numerical value called a fit factor. This fit factor provides an indication as to whether the chosen respirator provides adequate protection for the individual. Quantitative fit testing is considered the gold standard for healthcare workers exposed to hazardous particles in the workplace.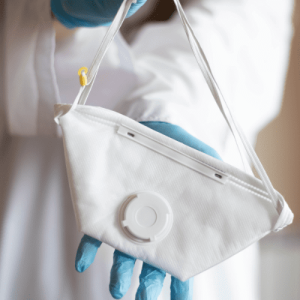 Over 50,000 Respirator Fit Tests Performed in Healthcare
Healthcare Student Respirator Fit Testing
KINNECT also supports universities to provide Respirator Fit Testing to healthcare students prior to engaging in hospital placements.  
Fast and convenient respirator mask fit testing can be provided to nursing students, allied health and medical students. 
Service Delivery
Prior to the testing
KINNECT will contact you to discuss the makes and models of the respirator masks used in your healthcare setting. You will be required to supply samples of the respirators and filters – one per individual tested. KINNECT will ensure a correct adapter is available to allow the connection of the portacount to your make/model of respirators. 
KINNECT will advise you on the factors that may cause an employee to unnecessarily fail their face fit test. This information should be communicated to your workforce in preparation for the testing and to avoid the need for repeat assessments. 
We know that coordinating a large number of workers to attend testing is tricky so KINNECT will also discuss with you the best methods to maximise participation of your workforce in the testing program. To make it easier, we provide an online bookings service to help you keep track of bookings along with communications support including reminder SMS and email messages about employee's appointment times and locations.  
Normally, we allow 20 minutes for each test. Some employees may require a subsequent appointment should they fail their first face fit test which we will aim to complete on the day, or at a later date if necessary. 
If the testing is being done in a KINNECT office, individuals will be sent a SMS and email notifying them of their appointment time and location. 
On the Day of Testing
If the testing is conducted onsite at your workplace, KINNECT will travel to your workplace to perform the testing. The tester will bring all the required equipment and setup 30 minutes prior to the first test commencing.
Each employee is notified of the outcome of their face fit test during the appointment.
Results / Reports
After all the face fit testing has been completed, KINNECT will prepare a group summary report that will detail the outcome for each employee evaluated. A copy of each individuals portacount report will also be provided to you in PDF format.
Face Fit Test Cards
Employees who have undergone a face fit test and have achieved a pass result can be issued with a Face Fit Test Card. This card details the make/model of respirator the individual has achieved a pass result on, the date the testing was completed and expiration date. These cards can be purchased at an additional cost if required.
Service Locations
KINNECT can travel to your workplace to conduct respirator fit testing. KINNECT travels from the below locations:
Brisbane, QLD

Gold Coast, QLD

Sunshine Coast, QLD

Gladstone, QLD

Rockhampton, QLD
Mackay, QLD

Townsville, QLD

Cairns, QLD

Melbourne, VIC

Mascot, NSW
Macquarie Park, NSW

Perth, WA

Adelaide, SA
Wanting to Conduct Testing Internally?
Respirator Face Fit Testing Training
KINNECT can assist you with training employees within your workforce to be competent in performing respirator face fit testing. This training course is designed to teach students the theory and practical skills in order to operate a portacount machine and perform both quantitative and qualitative face fit testing.
Learn to conduct respirator fit testing in your workplace.
KINNECT Training now offers a workplace training program to assist businesses meet their workplace health and safety obligations by providing a Respirator Fit Test Training program so you can have your own competent person undertaking respirator fit testing assessments in your workplace.
Saving your business time and money.
Saving your business time and money
Face to face – on-site and public courses
Designed to meet Australian Standards for all workers required to wear a respirator at work
Ongoing support and education available to all students
Australia wide delivery
Includes the issuing of your personal Respirator Fit Tester ID Card
How is the correct fit of a respirator measured?
The fit of a respirator involves three components:
Seal
Compatibility
Stability
Seal
If a respirator is a good fit, it will seal properly to the user's skin. A respirator works by contaminated air passing through a filter. If the respirator is not sealed correctly, the contaminated air will likely go around rather than through the respirator's filter.
Compatibility
It is important to analyse whether other personal protective equipment (PPE) will interfere with a respirator. Coveralls, safety glasses, hard hats, hearing protection and face shields are all examples of PPE that may compete for space on a user's head, face or body. For example, a half face respirator can overlap with safety glasses if not fitted correctly. To combat this problem, any PPE identified as potentially disruptive should be worn during the fit test.
Stability
When a respirator fits well, it is more likely to remain stable on the user's face during movement. Throughout fit testing, users are required to undertake several different exercises to ensure the seal is not broken when they are in motion. Any respirator that shifts during movement may not be able to retain a good seal.
When should I organise a respirator fit test for my employees?
It is important that all employees pass a respirator fit test prior to wearing their tight-fitting respirator for the first time on site. Fit testing is required for all tight-fitting respirators and includes half-face disposable, half and full-face reusable and powered air purifying respirators.
In addition to first time users, respirator fit testing must be conducted each time a new make or model is issued to a worker or when a worker's features or facial characteristics dramatically change (e.g. when there has been significant weight gain or loss).
To ensure ongoing protection, fit testing should be repeated annually.
Does facial hair impact on the fit of a respirator?
The proper fit and use of respirators is paramount when considering optimal employee health. Workers must ensure that they are clean-shaven prior to wearing a respirator. Facial hair can interfere with the ability to create an effective face seal, placing unnecessary risk on the worker.
KINNECT recommends face fit testing only be conducted on males who are clean-shaven.
What is the difference between fit checking and fit testing?
Fit checking is a quick check to ensure the respirator is properly positioned and a good seal has been created. This should be conducted by the wearer each time a respirator is used. Fit checking does not replace the requirement of a fit test by an accredited practitioner.
There are two ways a respirator user can perform a fit check:
A positive pressure check involves the user blocking the exhalation valve with their hands and attempting to breathe out. If the respirator fits well, there should be a slight pressure build up indicating that there is no air leakage.
A negative pressure check involves the user blocking the intake valves with their hands and attempting to breathe in. If the respirator fits well, no air should be able to enter.
What factors may prevent a successful fit test?
Smoking – if you are a smoker you will be required to refrain from smoking within 90 minutes prior to the test. This is because the portacount may detect smoking particulates in the exhaled breath, causing a false failure.
Eating within 30 minutes prior to testing
Facial hair in the area of the respirator will prevent a proper seal from being achieved, thus regulations preclude testing should significant facial hair be present
If an individual has undergone substantial dental work
Glasses – those requiring a full face mask are unable to wear glasses as a sufficient seal may not be achieved. If you require full face protection and need glasses you will need to investigate the use of contact lenses, or change to a powered respirator.
What is the purpose of the adapter?
Every make, model and series of respirators have a particular adapter that allows the connection of the respirator to the Portacount so that respirator fit testing can be completed.
KINNECT hold numerous adapters for various respirator brands.
How long does a test take to complete?
The test takes approximately 15 minutes to complete. However in the event an individual does not pass their first face fit test, they may require a subsequent test in order to test them against another respirator make/model.
Pricing
Respirator Fit Testing - Half Day Rate
$

1,250.00
+ GST
Up to 9 appointments per half day. Includes fit check education and up to 2 x masks respirator fit tested.
Respirator Fit Testing - Day Rate
$

2,250.00
+ GST
Up to 17 appointments per day. Includes fit check education and up to 2 x masks respirator fit tested.
Request a Quote for your Organisation / Workplace
Simply complete this form and we will contact you with a quote for your Respirator Fit Testing needs.
Ready to partner with KINNECT?