An employee who has experienced traumatic stress, psychological/physical injury and/or mental illness may require specialised services to support them in returning to work.
Learn More  Our Psychologists  Pricing
KINNECT's Adjustment to Injury Counselling centres around an evidence-based framework with the focus of assisting injured workers overcome the variety of psychological barriers that may directly delay or prevent a successful return to work.
When conducted concurrently with a Return to Work Plan, KINNECT's Adjustment to Injury Counselling can facilitate a timely and durable return to work through the provision of proactive self-management techniques that provides an injured worker with both coping strategies and support during the rehabilitation process.
KINNECT's Adjustment to Injury Counselling sessions are tailored against the individuals specific needs, however all sessions are conducted with the eventual goal for a long term, sustainable, return to work for the injured worker. The specific issues that can be addressed through adjustment to injury counselling include:
Chronic pain
Depression
Anxiety
Post-traumatic stress disorder
Adjustment to change
Difficulties in a persons life
In the initial Adjustment to Injury Counselling session, an assessment of the presenting issues, symptoms and psychological history is made and specific assessment tools such as the Depression, Anxiety and Stress Scale (DASS21) may be administered.
The individual will then participate in 3 one on one counselling sessions with a Registered Psychologist. These session are structured to identify and address triggers for the thoughts, emotions and behaviours that impact on the person's capacity to return to work. The personalised counselling plan may lead to a variety of topics, options and alternatives:
Psychoeducation
Strategies for coping
Process of adapting
Education on the rehabilitation process
Stress management
Emotion regulation
Trauma processing
Mindfulness skills
All adjustment to injury counselling sessions include the development of an individualised goal orientated management plan to achieve a successful return to work. This plan is developed in a holisitc manner that incorporates the following elements:
The workers injury
The workers symptoms
The workers triggers / aggravating factors
The workers pre-injury job role
The workers return to work plan
The workplace environment
The workers support network
Adjustment to Injury Counselling has benefits for both the employee and employer when it results in sustainable return to work outcomes and reduced worker's compensation costs. Furthermore it can assist an injured worker in overcoming the variety of difficulties often associated with complex return to work claims. Access to early intervention injury counselling outcomes empower individuals with an increased awareness and understanding of the psychological processes underlying the issues and barriers they face, and the capacity to take control and respond more effectively to change in their personal and working life.
People's lives outside of the workplace can significantly impact their mood and behaviours during work hours. For this reason KINNECT's Adjustment to Injury Counselling service includes identifying these difficulties and a number of self management strategies to assist. Adjustment to Injury Counselling teaches self management strategies that are not only effective when used but also practical in nature.
KINNECT offer Adjustment to Injury Counselling services for workers with both psychological and physical injuries. Our team of expert Psychologists are available to work with your employees recovering from either a physical and/or psychological injury, to assist them with overcoming identified psychological barriers and facilitating a safe and sustainable return to work.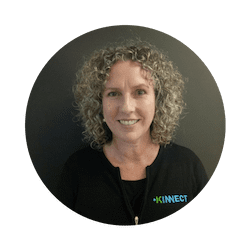 Suzie Rigby
Registered Psychologist (AHPRA)
Bachelor of Science (Hons), Psychology – University of Surrey (1998)
Speciality Areas of Interest
Vocational Services
Human Resource Management
Psychoeducation
Stress Management
Acceptance and Commitment Therapy
Brendan Turner
Registered Provisional Psychologist (AHPRA)
Graduate Diploma of Psychology – Monash University (2014)
Bachelor of Science, Psychology – University of Southern Queensland (2012)
Practitioner Training Program (2018) – Australian Radix Body Psychotherapy Association

Speciality Areas of Interest
Trauma
Emotion Regulation
Neurobiology
Somatic Psychology
Mindfulness
Pricing
Initial Consultation
$

525.00
+ GST
Initial assessment to identify psychological barriers impacting a return to work and the development of a goal orientated management plan. Includes: 90 Minute Consultation with a KINNECT Psychologist + Comprehensive Summary Report of Session and development of Management Plan.
Subsequent Consultation
$

210.00
+ GST
Subsequent counselling session with a worker and the provision of self management and coping strategies to address Psychological barriers. Includes: 60 Minute Consultation with a KINNECT Psychologist + Summary Report of Session and Progress Update.
How long is each counselling session?
KINNECT's adjustment to injury counselling consist of 1 x Initial 60 minute session, followed by 4 x Subsequent 60 minute sessions.
Who conducts Adjustment to Injury Counselling?
Adjustment to Injury Counselling is conducted by one of KINNECT's Psychologist who hold at a minimum provisional registration with The Pyschological Board of Australia.
Who can refer for Adjustment to Injury Counselling?
Employers
Supervisors
Injury Management Co-ordinators
Health and Safety Advisors
General Practitioner
Rehabilitation Consultants
Ready to partner with KINNECT?