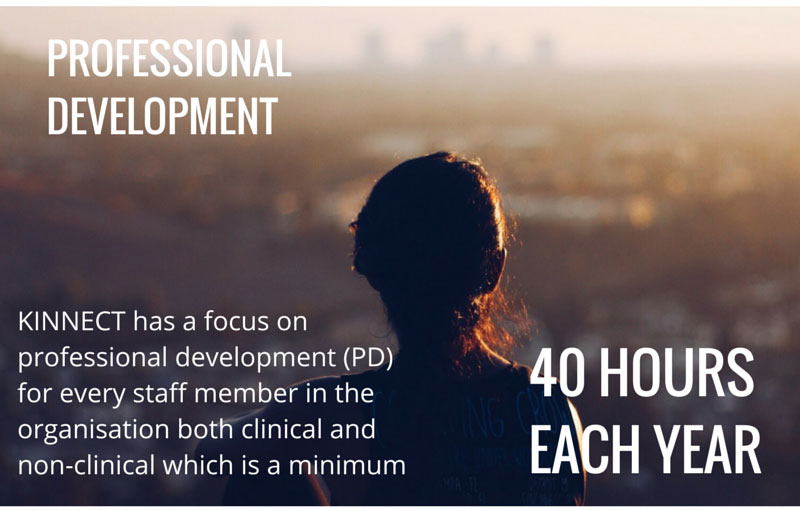 As a leading provider of workplace health solutions, KINNECT maintains a strong focus on the professional development (PD) of every staff member in the organisation. This ethos applies to employees working in both clinical and non-clinical roles. We have set a company standard for all employees to complete a minimum of 40 hours of professional development per year. This commitment far exceeds the 20 hours required for clinicians to maintain industry registration.
As stated in our employment contracts, it is compulsory for KINNECT personnel to participate in both internal and external training courses to further enhance their career development and professional growth, as well as maintain clinical registration and accreditation with relevant professional associations and governing bodies. To support these requirements, KINNECT offers employees access to learning opportunities outside their specialised discipline, creating additional skills to advance their career and expand professional knowledge. Examples of these opportunities include access to sales and marketing seminars, financial symposiums and business growth summits, which typically fall outside the traditional skillset of our allied health professionals, but are very useful in providing additional skills the employee can apply in their work with KINNECT and in their broader careers.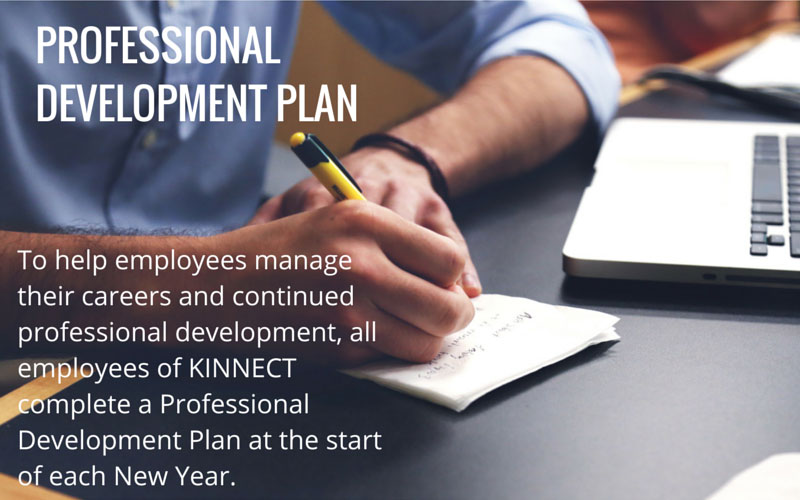 To assist employees manage their careers and persist with continued professional development, all employees of KINNECT complete a Professional Development Plan at the start of each calendar year or within a month of employment if a new starter. All team members are asked to outline their learning requirements for the 12 months ahead, complete with a plan outlining how they will not only meet, but exceed their training and education goals. This professional development plan is reviewed on a monthly basis in consultation with KINNECT's Directors and Senior Leaders.
The compulsory 40 hours of professional development is 100% funded by KINNECT. If an employee would like to participate in additional education and training, KINNECT will happily fund courses, conferences and other professional development activities as long as they support the organisation's core values of 'happy, highly skilled people creating sustainable value'. KINNECT is proud to offer employees uncapped professional development opportunities, which is an exceptional benefit for our people to build their careers.
KINNECT uses a scorecard system to evaluate the performance of all staff in our organisation and provide a framework for employees to challenge themselves professionally.
Our scorecards clearly define the mission for a position, the outcomes to be accomplished, key competencies for the role and personal attributes required to fit with our corporate culture.
Remuneration and incentives are clearly tied to the varying scorecard levels that exist within the business. This information is published publicly for all employees to access to demonstrate KINNECT's organisational transparency.
After joining KINNECT, employees are allocated a scorecard level based on their position and key responsibilities. They are educated on how they can achieve a higher-level scorecard by exhibiting advanced behaviours and competencies.
Every employee's scorecard is reviewed at least once a year, however an employee can request a scorecard review at any time if they feel they are ready to be progress to a higher level. This system makes it possible for an employee to know the exact competencies and responsibilities they need to fulfill, and the outcomes they must achieve to move through the ranks of the business and determine their own course and time frames for career advancement.
This system empowers employees to enhance their level of knowledge and skill, while creating fairness and equality for all employees regardless of age or years of experience.
Developing Tomorrow's Leaders
At KINNECT we believe that every KINNECTer has the opportunity to develop into being a leader and to further their career. In fact, developing KINNECTer's is an important aspect to our future plans. Our goal is to attract the best talent available and then develop these A Players further. With ongoing support and development, any KINNECTer has the potential to grow into a more senior position at KINNECT.
DID YOU KNOW: 100% of KINNECT's Management Team have come from entry level positions and have been developed into successful Business Leaders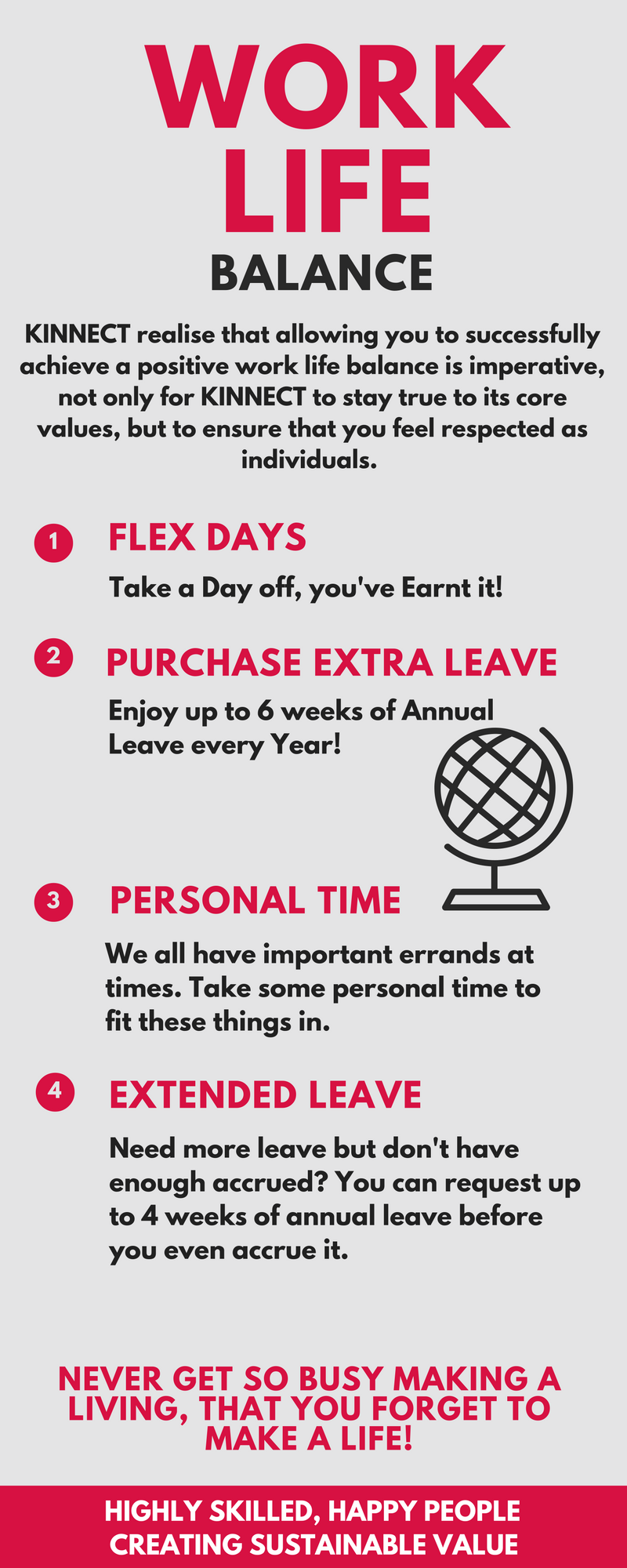 KINNECT firmly believes that without a genuine work/life balance, it's impossible to keep employees happy, engaged and excited about working in our business and providing great service to our clients and care to our patients. Promoting a healthy work/life balance for all employees is imperative for KINNECT to stay true to its core values of 'happy, highly skilled people creating sustainable value'. We also believe a positive work/life balance ensures our employees feel respected as individuals.
KINNECT understands there is no one-size-fits-all approach in respect to achieving great work/life balance, so instead we have implemented a variety of measures to ensure a work/life balance is in everyone's reach no matter what their circumstances.
For employees who have been working at a level higher than their role usually calls for, whether that has taken the form of working long hours, managing a larger than normal caseload or conducting work that requires hours of travel, KINNECT encourages the use of flex days so that a work/life balance equilibrium can be restored.
A flex day is essentially a day off which is fully compensated by the company and scheduled at the employee's discretion.
Flex days can be awarded based on performance criteria. There is no restriction on the number of flex days an employee can request or be awarded throughout the year, ensuring that employees can establish a sustainable work/life balance with the help of this initiative.
Another option for employees looking to achieve the right work/life balance is the opportunity to purchase additional leave. Employees may purchase additional annual leave of up to 2 weeks every year, in addition to the 4 weeks annual leave already provided. If an employee wishes to purchase additional leave, they can do so by requesting a nominal amount (to cover the leave period) to be deducted from their remuneration on a fortnightly basis. Lodging a request to purchase additional leave is simple, with employees asked to email KINNECT's Accounts and HR Team requesting the desired amount of additional leave.
PERSONAL COMMITMENTS, APPOINTMENTS & EXTENDED LEAVE
With respect to personal commitments and appointments that fall within working hours (doctor, dentist, etc), KINNECT's policy is to provide all employees with the time they need to complete these commitments without question, as long as the team member invests the time at a later date to ensure all job requirements are completed. As KINNECT employees control their own calendars, there is no restriction as to when personal appointments can be made, providing employees with flexibility in respect to the scheduling of external appointments and activities.
For team members wishing to achieve work/life balance with extended annual leave, KINNECT provides employees with the opportunity to take an additional two weeks leave on top of their existing four week annual leave entitlement. Additional leave that has not yet been accrued can be applied for by all employees, and if granted, will be reflected in a negative leave balance upon the team member's return. In the past twelve months, KINNECT have granted additional leave to more than ten employees.
HEALTH & WELLBEING
As a leading provider of services within the Occupational Health sector, KINNECT has a long history of practicing what we preach when it comes to the health and well being of our employees. To encourage staff to adopt a healthy and active lifestyle, KINNECT has established a number of initiatives including:
On-site massage services received by employees at all eight of KINNECT's locations;
Sport and exercise programs including boot camp, yoga classes, touch football, netball, volleyball and rock climbing;
Influenza, Hepatitis A, Hepatitis B and tetanus vaccinations offered to all employees; and
Access to free physiotherapy and exercise physiology services.
In addition to the above programs, KINNECT has also established a corporate agreement with Medibank Health allowing employees to purchase private health insurance with an 8.3% discount on all policies.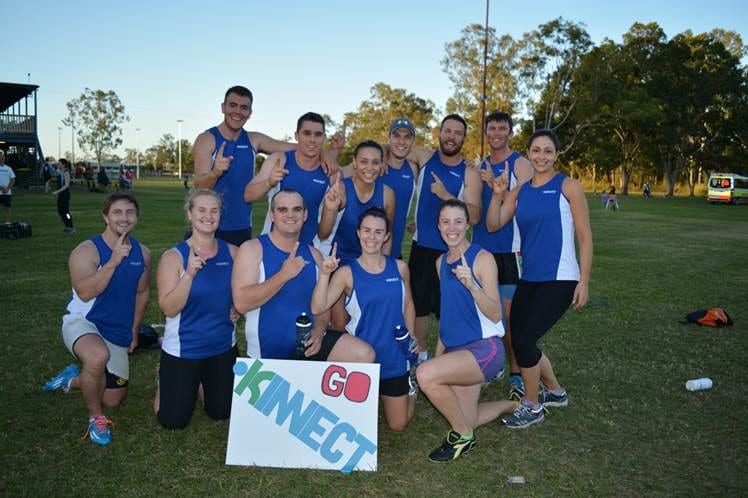 KINNECT has a variety of employee support policies and programs available to staff who are experiencing personal crisis, family illness and a range of other major life events.
KINNECT is proud to offer flexible working arrangements including part-time and working from home options to employees juggling work and family commitments (whether that be parenting responsibilities or caring for elderly parents).
KINNECT is also proud of our track record in supporting valued team members through distressing life events such as separation, divorce or serious illness or injury. We are happy to stand by our employees in times of personal crisis.
KINNECT's Directors and Senior Leaders view our employees as an extension of our own family, and we treat every employee with the compassion and understanding we would want for our own parents, children and friends during a difficult time or transitional phase.
Janna Bailey – Senior Exercise Physiologist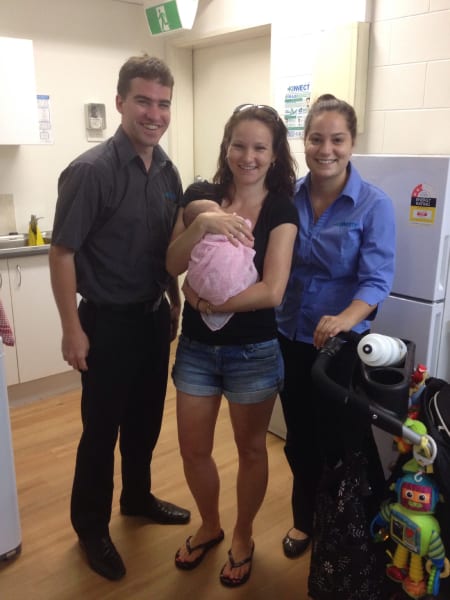 I was always driven to succeed in my career however starting a family was also very important to me and therefore upon giving birth to my daughter I proceeded to take a combination of the funded parental leave / unpaid leave to care for my daughter.  I initially planned to take 9 months leave from work before returning to work part-time however throughout this time I personally felt uneasy about placing my young daughter into a day care setting.  I therefore broached KINNECT about my options to which they offered me the opportunity to work part time from home, which eased my anxiety and also with such flexibility enabled me to return to work sooner (6 months post the birth of my daughter).  I perform duties that do not require urgent attention such as reviewing reports and providing mentorship to some of KINNECT's new employees, which enables me to work when convenient (which as a mother immensely beneficial). And to ensure that I was at no financial disadvantage by working from home, KINNECT had internet installed in my home. This arrangement has allowed me to contribute to the organisation and reinforced to me that I remain a member of the KINNECT team.
In our opinion, appreciation and recognition of employee contributions, whether these contributions are big or small, fosters a positive workplace culture and makes our people feel needed, noticed and most of all valued by everyone at KINNECT.
Our reward and recognition program has been created specifically with KINNECT's core values in mind – 'happy, highly skilled people creating sustainable value'. Issuing staff with tangible, meaningful rewards and incentives demonstrates that KINNECT's Senior Leaders have been paying attention. More than that, it also allows us to show we care, while also appreciating the largely unquantifiable worth of having positive, talented and committed employees providing top quality solutions for patients and clients.
KINNECT has established a number of reward and recognition programs for employees including:
Earned Flex Days
At KINNECT, employees can earn a flex day by demonstrating through their performance dashboard that they have performed exceptionally by exceeding a target of 120% or higher. There is no limit on the number of flex days an employee can apply for or be granted, provided that the basis for the requests meet KINNECT's core value of 'happy, highly skilled people creating sustainable value'. Once granted, it is up to the employee's discretion when they choose to enjoy their flex day.
Quarterly Cultural Events
To thank our incredible team for their continued outstanding contributions throughout the year, we provide them with an all expenses covered team building event every quarter. Each region meets at a central location to enjoy a group activity with all flights, accommodation and meals paid for by KINNECT. The budget allocated to the cultural events is dependent on the tracked company performance throughout the year to keep all employees engaged and focused on our individual and collective goals.
This year KINNECTers will celebrate their end of year cultural event by kicking back and enjoying a few drinks at a local bar after work followed by a day of go karting!
Generous Working Away from Home Allowance
We understand working away from home is not ideal for our employees. Some of our clinician roles do include necessary travel, and we recognise the personal sacrifice involved in this aspect of the job.
To show gratitude for the commitment of our staff in participating in the travel sometimes required, KINNECT provides staff members with a generous working away from home allowance for every night they spend away for work-related travel.
Positive @ KINNECT
We believe our staff feel most appreciated when they receive positive praise and feedback from colleagues, Senior Leaders and external clients. KINNECT understands that the frequency of positive reinforcement is critical in maintaining consistent levels of employee engagement and motivation, inspiring staff to meet and exceed performance goals. To promote regular positive reinforcement and encouragement, KINNECT established the 'Positive' program. When employees observe a colleague demonstrating or embodying KINNECT's core values, they are invited to share these behaviours by emailing feedback to positive@kinnect.com.au. Positive employee feedback from customers and parties external to KINNECT is also forwarded to this inbox. All positive comments are compiled on a weekly basis and reported to staff through weekly meetings and email.
Every Employee gets a Day Off on their Birthday
No-one likes to work on their birthday! At KINNECT you don't have to. All employees, regardless of when their birthday falls is entitled to the day off so they can celebrate with friends and family.